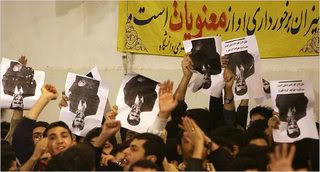 Iranian university students are fed up with Ahmadinejad and are
getting more vocal protesting
his conservative internal policies and his strident rhetoric against the West. In related news, Iranian reformists have just scored a victory in local elections.
This is an important reminder that not all Iranians are Ahmadinejad and not all Muslims are a blob.
To deal with this internal protest, I'm sure Nejad will heat up his rhetoric against Israel and the West and in defense of Islam.