Muslim girl
sues school because it is requiring her to wear a uniform that is not Islamic enough. What is this uniform? No. Not a mini skirt. No, not tight jeans. No, not shorts.
It's shalwar kameez (trousers and tunic). According to her, it's worn by "non-believers" and is not modest enough.
This reminds me of how the traditional Palestinian dress, the one colorfully embroidered by hand and which covers women's whole bodies and is usually accompanied with a head cover, came under attack by Islamists in the West Bank in the 80s because it was not Islamic enough. I guess it was too pretty for them. And sure enough, it's now replaced by the dark, boring uniform that is adopted for "modesty." The Afghani look is in; the Palestinian look is out.
My mother lived and died wearing that beautiful Palestinain dress that she lovingly embroidered with her very own hands till her eyes failed her and she could do it no longer.
She never liked that other uniform.
Update 1: The woman won the case against the
school
.
Update 2: in response to an inquiry of one reader, here are some pictures:

"Islamic Jilbab"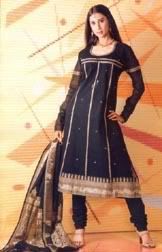 Salwar (sharwal) Kameez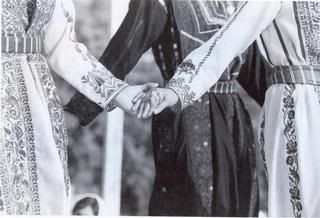 Traditional Palestinian dress